Clearing & Reforestation

We can clear forested or wild growth land for any purpose. We have Bushhog decks that will cut brush or we can remove trees, stumps and debris.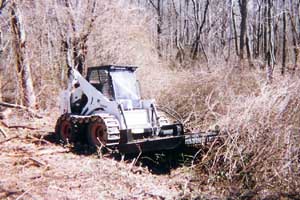 We also reforest land and grade and install lawns for new or existing construction. We have nursery experience and can advise you of what the planting options are for any local area.
We are skilled in wildlife habitat construction including reforestation, wetland and upland planning to increase wildlife habitat. We can obtain the necessary permits as well as help find cooperative sponsors to help pay for increasing wildlife habitat. An example of a pond we constructed for this purpose is shown on the "Pond Installation" page.
If you are interested in exploring the possibility for such a project, we would be glad to come out and discuss it with you.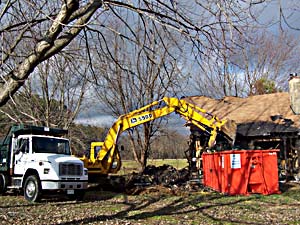 We also offer clearing of structures such as this fire damaged home. Shown is one of our Orange Cans containers that we use to haul the refuse away.

A phone call is all it takes to solve you clearing project so call us to discuss your need and we'll give you a free estimate for the entire job!