Basements & Footers
We provide all the necessary excavation services that may be required for new homes or reconstruction. We can clear the lot, dig the basement and footers, install the septic and driveway and do the final grading and lawn installation.
We have a 70hp Skid Loader with steel tracks and 300o lb lift capacity and a Mini Excavator with a 10' Digging Depth capability.
Our skid loader can be equipped with an auger from 9" to 36", a bucket, rakes or pallet forks. We have 12", 18" and 24" buckets for the excavator.
We are also licensed and insured to do demolition and construction.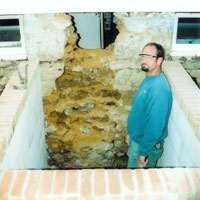 We have equipment that can work in close quarters such as digging a new basement under an existing home or installing an outside entrance to an existing basement. In this photo, we have excavated for the outside basement entrance, installed the concrete retaining walls and we're breaking through the original stone wall to the basement. In this case, we did the excavation and remodeling including the installation of the outside doors.
We are willing to do as much or as little as you want and we are willing to work with your contractor if necessary. Call or eMail us so we can discuss your situation.